About Us
What is NintendoChitChat.com?
NintendoChitChat.com is a gaming community that lets users start creating profiles, post messages, make connections, participate in live chat, interact in forums, and much more. The community also creates fresh Nintendo content with gaming articles and videos on the latest news, video games, and more. A place for all who love Nintendo gaming. We offer a site-wide achievement system and hold community contests often in which we give away digital game codes, physical games and related merchandise, amiibo, and more. Register for FREE today and spread the word to your gaming friends!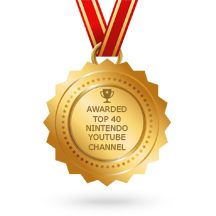 Find Us On Twitter:
Find Us On Facebook:
Our YouTube Channel:
Email Us:
About the Owner: Eddy Ray
Eddy Ray is a Nintendo Fan, Gamer, and Collector who loves to share and connect with others who may have the same interest. He's an official Nintendo Brand Ambassador and Influencer who creates family friendly gaming content for this site and it's social media outlets on: Twitter, Facebook, Instagram, and YouTube.
He decided in 2015 to undertake his own community site to help reach out to anyone looking for a unique and fun community. The site is mainly related to Nintendo "stuff" but there are other places here that you can call "home".. even if you only play games on a PC, Xbox, or Playstation.
Eddy also operates a brand new Nintendo news site called, NintendoReport.com which updates automatically every 20 minutes from Nintendo social feeds, rss feeds, and other sites that cover Nintendo. It's basicially the world wide web of Nintendo… all in one location! Eddy also recently created the PokemonGoTrainingAcademy.com – a great resource for everything about Pokemon GO from how to play, tips, hints, and secrets. In addition to this Eddy & Samantha have started a live podcast every week discussing the latest Nintendo News! Find it on Sound Cloud, Player FM, iTunes, Google Play Music, and more. Search (Nintendo Chit Chat)
Aside from all of this Eddy is a professional magician who performs family magic shows and lectures for other magic clubs. He is the author of 2 books on magic and has around a dozen instructional videos available for sale worldwide. His website is www.eddyraymagic.com
NCC Staff:
Community Manager – Amber

Amber is a video game enthusiast and community manager of Nintendo Chit Chat. You'll find her in the NCC discord server and posting on the NCC facebook page all of the latest details regarding scheduled streams, giveaways, and more!
Samantha is a published horror and fantasy writer, a professional freelance writer, and a longtime gamer. As a result, writing about games is one of her favorite activities. She likes a wide range of genres, especially RPGs, survival horror, and visual novels.